Dutch Oven Cook Off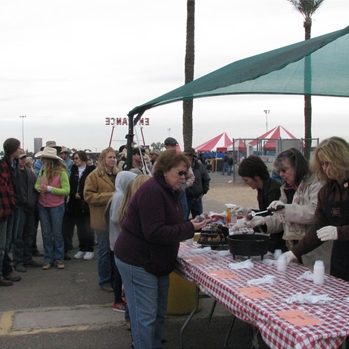 The 5th Annual Dutch Oven Cook Off will be held December 31, 2016.
The Dutch Oven Cook Off is a different type of event than the Chuck Wagon Cook Off, consisting of 3 dishes. Each team will submit their recipe prior to the cook off for the dessert, bread, and main dish they will be preparing. Each dish is judged on Overall Appeal, Appearance & Presentation, Execution of Recipe, Taste, and Difficulty. They will be working with charcoal, while the Chuck use hardwood coals. This style of cooking leads to the heat management of the coals which you might think is something easy to do but there is an art to this technique to make sure your dish comes out just perfect!
The cook off is being sanctioned by the International Dutch Oven Society (IDOS). The winner from this cook off will be eligible to enter into the World Championship Cook Off, which is held in March 2017 in Utah as part of the Internationals Sportsman's Expo (ISE).
These types of contests are done across the country with several throughout the year in Arizona. Contestants from the Chuck Wagon Cook Off are also able to participate in the Dutch Oven Cook Off.
The general public will have an opportunity to enjoy a sample after the judging from the Dutch Oven Cook Off while supplies last. Competition information will be available in the summer.